Defining Your Coin-Collecting Teaching G.I.F.T.


Course Creation Made Easy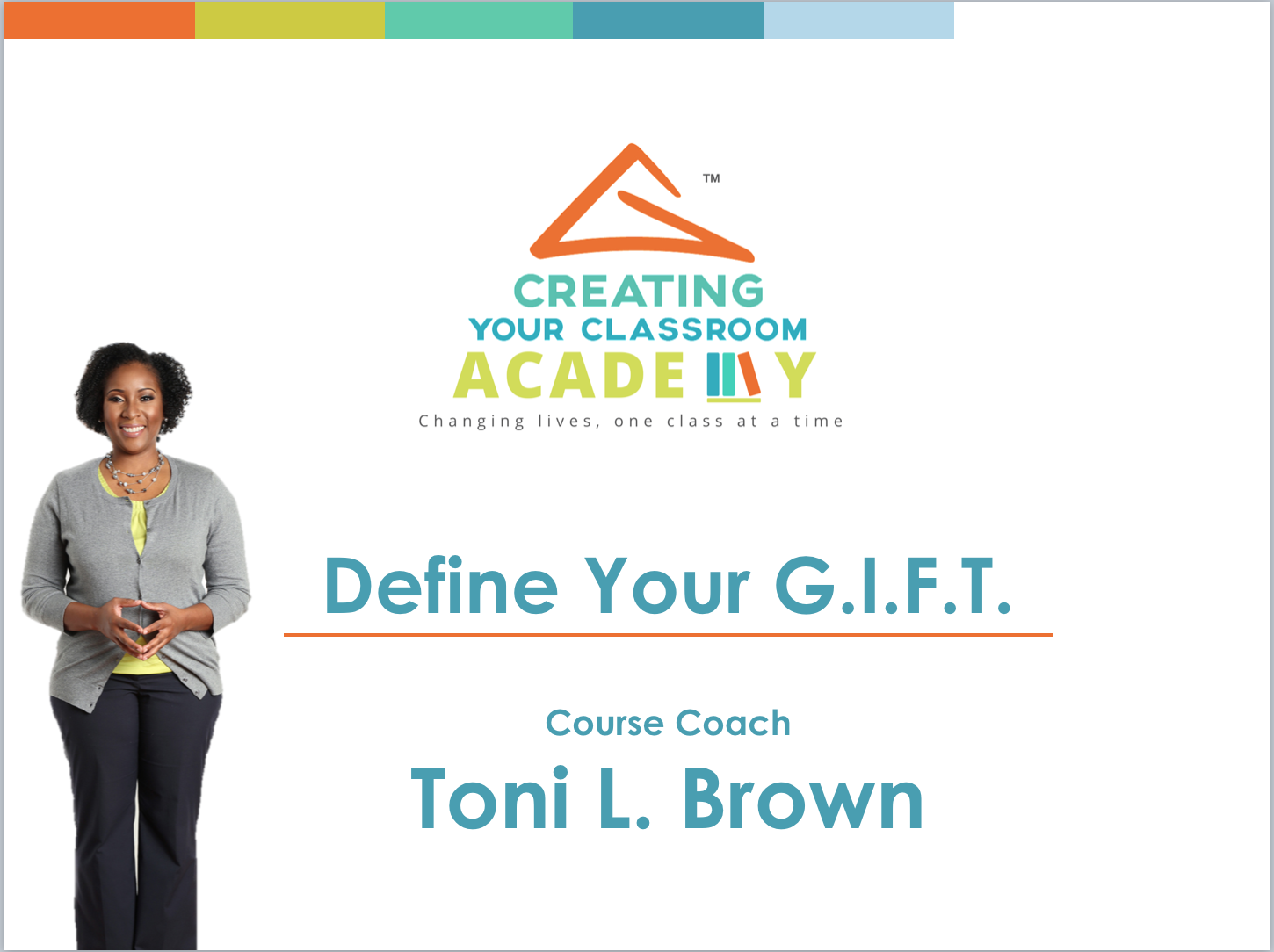 Defining Your Coin-Collecting Teaching G.I.F.T.
4-Video Series w/ Activity Sheets

Let's talk about creating a solid, on point, put all other courses to shame course foundation.  The foundation of  your course hold the content steady and strong so you know exactly what to include and exclude in your class.   You can use this technique for your online, offline, speaking engagements or workshops, any way you are choosing to exchange of your valuable information with the people that will pay.
I've been creating courses for 20 years now and I've been in this online business world for almost 5 years and I've seen course come, go, conquer, flop and fold and the main reasons why????  They miss the mark in content, not organized or just straight up does not delivering the goods.  Now, since this is my thing, I know exactly how to correct this problem and I'm going to share it with you, but first some facts about courses.
FACT # 1: Courses have a completion rate of 3-5%, the reason… people are throwing information in a package with no rhyme or reason or responsibility for the transfer of knowledge and people loose interested or think there must be a better product out there.  Maybe there is a better product, like your course because I will not let you step foot in front of your class lacking class.  But let's be real, people are putting together crappy courses because they don't care and don't know what the heck they are doing!
FACT # 2

Courses are a $107 Billion business.  That's right, you heard me correctly, yes B, billion dollar business that is doubling every year because, as I stated earlier, this is the information age and people have got to have it!  Creating courses has changed my life, not only do I get to collect coins 24/7, I help people change their lives, expand their business, increase their reach and enhance their lifestyle and mine included.
Just the other day a person asked me how to choose the content for my class?
I also get:
– How do I get clear on what I'm teaching?
– How do I keep from getting overwhelmed during the process?
– How do I know the people that will pay for my course?
– How much information is too much information?
– How do I break down the content so my course won't be to big?
I can go on and on until the break of dawn with the questions that hit my DM.  Previously I mentioned that I have the answer to this reason for the epic failure of sooooo many courses and it's because the foundation of their course is weak.  They can't nail down what to actually put in the course so they just dump it all in and that is so damn lazy.  So I have the solution that will keep you off the "do not take this class" list and yes the online world keeps this list up to date.  It's a 4 part video series virtual class that guides you in the process of building a course foundation that helps your class stand out above the rest! This are broken down into small 20-minute lessons so you can quickly create your course foundation.  I take my Fortune 500 clients and small business owner through this process as well, it's like an over the should glance at a private client's session.
Start to lay the foundation of your course today.  This class includes 4 short 20-minute videos with an activity workbook that helps you identify the GI.F.T of your class.   No more second-guessing your ideas or getting caught in the "content confusion" trap.  This class is hands-on and guides you with techniques so you can simple drop your knowledge out your head and into course that brings in the coins while you eat, sleep and play.
So check this out, in this class you get:
> Guided steps to help you identify the goal of your course
> Tools to help you identify whose butts will be ready to punch in their credit card digits and have a seat in your class
> A 4 page activity workbook  that helps you pull it all together
> BONUS Item: Uber Experience Activity form for additional support
For the price of $37.00 you get the video, activity workbook and support.
Copyright 2016-2017 TONI L BROWN LLC | Terms & Conditions