ENROLL IN YOUR CLASS TODAY!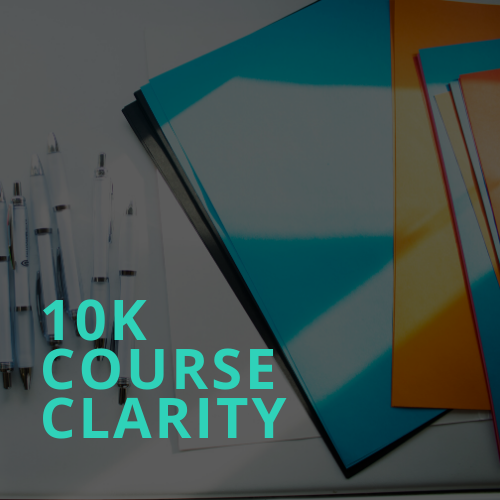 HOW TO DECIDE ON THE BEST TOPIC FOR YOUR COURSE GET STARTED HERE: LEARN HOW TO CAPITALIZE ON YOUR KNOWLEDGE IN THE EDUCATION INDUSTRY Investment - $10
Get Course Clarity for that 10K Course: Feeling totally overwhelmed just trying to keep track of your course ideas, content, and, you know, your actual life (Family? Friends? Remember them?). This video workshop will show you exactly how to determine your hot course teaching topic, signature course cocktail (I explain more about this inside) and even your compelling BOLD statement to help others understand how your course can help them. 
Class Materials: Explainer videos to help you determine your BOLD Course statement, hot teaching topic, compelling course subject and your signature course cocktail AND bonus videos
Delivery: videos, with activities
Results: Clarity on the course you really need to teach
HOW TO ELIMINATE COURSE CREATION CONFUSION AND DETERMINE THE FOUNDATION OF YOUR COURSE THAT WILL MAKE YOU MONEY WHILE YOU EAT, SLEEP AND PLAY Identify your course foundation Today! Course Creation Quick Learn Investment - $147
This video series Workshop focuses strictly on developing a solid foundation for your course.  By the end of this quick learn you get clear on what you are going to teach and who you are going to teach it too! 
There are two steps that people miss that cause big time confusion on your content and this is what really slows you down the process and leads to overwhelm. You start out fast and strong only to get a little confused on the next step, what content to include, is this too much information or is it too little?  

Once you have the foundation identified you never have to ask yourself these questions again because you know exactly what you need. 

Class Materials: Explainer videos to help you determine your course G.I.F.T. with worksheets to capture your genius
Delivery: videos with activity sheets
Results: Clarity on the content you really need to teach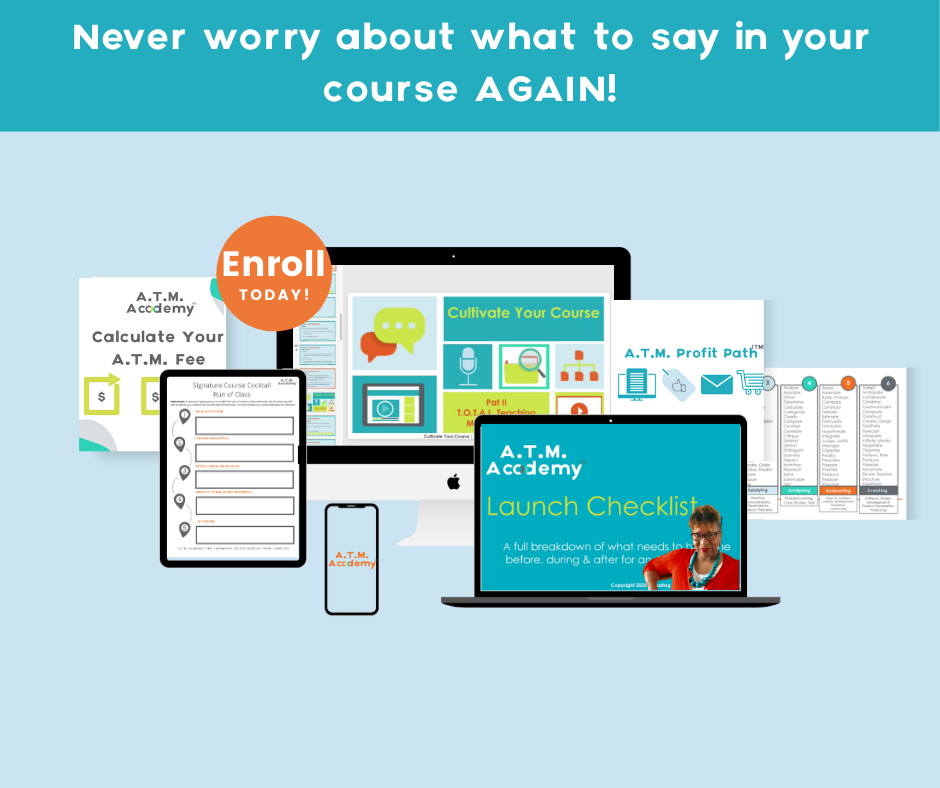 CREATE YOUR COURSE CONTENT & MATERIALS IN 2 DAYS! Start creating your Automatic Teaching Machine (A.T.M.) Today! Course Creation Quick Learn Investment - $147
You know what you want to teach, now what?!?!?
It's time to get your class together, whether it is live, evergreen or a mixture of both you know how you are going to teach it.
The A.T.M. Academy is your starting place!  This self-paced workshop focuses on creating your class, you know what you need to say and how you are going to present it. Gain instant access to templates, swipe files and checklist with the exact steps you need to determine what you need to say, the actions you need to take and how you need to deliver it to make the most impact.   If you only use the Run of Class script, you will have gotten your money back!

Class Materials: A.T.M. Lesson Planner, Run of Class Checklist and Script, A.T.M. ProfitPath (Funnel strategy), Calculate Your A.T.M. Fees worksheet and more! 
Delivery: videos and worksheets
Results: You walk away with a product ready to sell.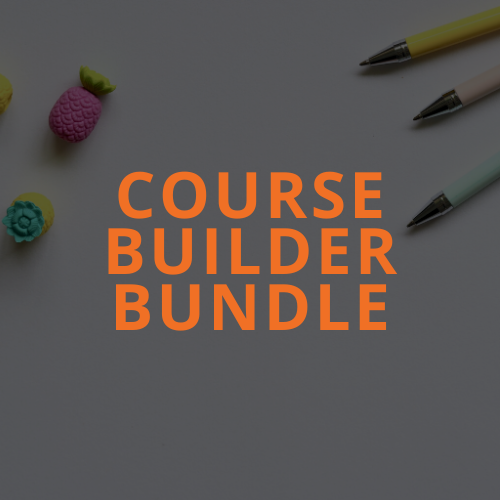 HOW TO SET UP AND SELL YOUR COURSE TAKE YOUR COURSE IDEA FROM CONCEPT TO CART IN 45 DAYS! This is a total course creation workbook blueprint. Investment: $97
This class is a guided course delivery system that coaches you through the course creation process.  Getting your course created and ready for the market requires clarity, vision and the ability to execute consistently in the right order. You want to build faster, create better, and make money ASAP. But doing this alone is overwhelming and time-consuming. So I've made you a roadmap. A plan of action. A tried-and-true system to follow so you can feel confident about the future of your course.

Gain instant access and unlimited downloads of the CourseBuilder Bundle coaching blueprint, where you simply answer the questions, fill in the blanks on the worksheet and your course is built right before your eyes.
I coach you through each step of the process from determining exactly what your learners want from you to how you launch it to the world.  It's easy to use, just drop your genius in and you are ready to teach!
Class Materials: A set of workbooks (3-5) for each step: Discover, Design, Develop and Delivery.  
Delivery: Workbook only
Results: You have a complete course ready for the market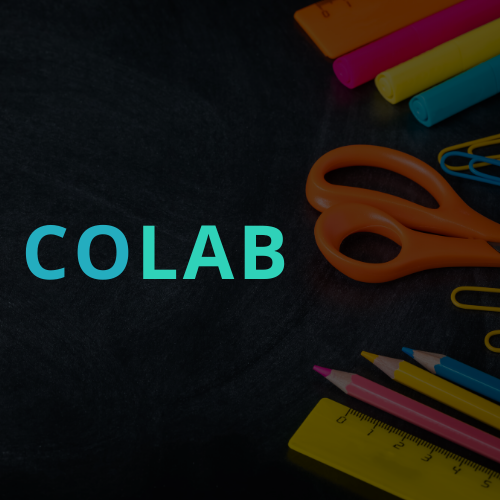 GET EXPERT HELP TO CREATE YOUR COURSE JOIN OUR COMMUNITY OF COURSE CREATORS TO GET LIVE FEEDBACK ON YOUR COURSE AND GET THE SUPPORT YOU NEED TO LAUNCH YOUR COURSE Investment: $167/month
 Co L.A.B. Course Creation Lab where you get access to all the trainings listed above and more!
See this is an all-inclusive course creation resource for your business where you have access to all things course related with support from industry experts.  
There are over 15 instructional courses with 3-4 lessons that breakdown this process so it's easy to take action.  You can complete these lessons on your lunch break or while waiting for your child to finish practice.  
Eliminate:
– Analysis paralysis
– Second guessing the process
– Course Creation overwhelm
– Pushing the Publish button paralysis 
And replace it with:
– course creation trainings 
– tech support 
– copyrighting support 
-swipe files 
– expert assistance 
and the guidance to plan your course from idea to cart. 
Course Materials: videos, templates, swipe files, project management forms & more!
Delivery: live instruction, videos, development labs & bi-weekly live sessions
Results: Strategic learning program, course developed and launch in place
BE AN INSIDER
Get access to all the exclusive and early-bird specials
CONNECT
Join the movement and use #OnCourseToTheCart on social media